Construction Update
Take a look at us now....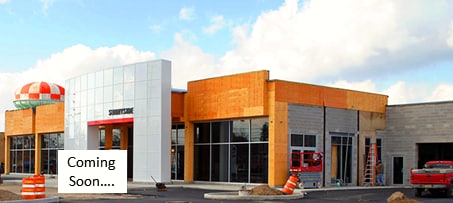 Look at our new building! The windows are in! Something new and exciting everyday!
[FULL STORY]
Now on DriveLiveTV: Toyota's 2012 Lineup of Cars
Toyotaís 2012 car lineup focuses on sharp styling, excellent fuel economy and technology conveniences, meeting the everyday needs of all drivers.
[FULL STORY]
Prius in Stock
Over 20 Available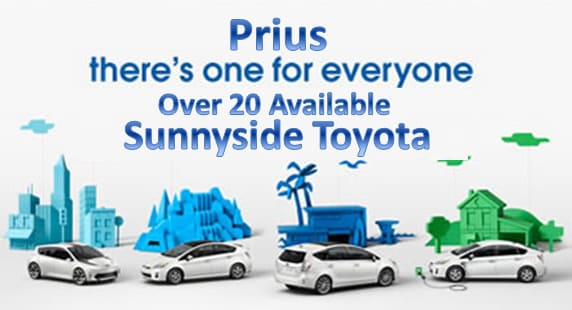 Over 20 Prius now available at Sunnyside - including the all new Prius V.
[FULL STORY]
Meet the Prius V
New Style for America's most loved Hybrid
Since 1997 the Prius has been the dominant leader in hybrid technology worldwide. In the U.S. alone, the Prius has sold more than one million units since 2000. The all new Prius v hybrid vehicle is the newest member of the Prius Family.
[FULL STORY]
Vehicle Details: The 2012 Toyota Camry
Americaís bestseller just got a whole lot better.
Just how do you make Americaís favorite and best-selling midsize sedan even better? Thatís a challenge Toyota has faced each time it has redesigned the Camry, the platinum standard in midsize sedans. But once again, Toyota has delivered a new benchmark for the class by improving on every attribute that made the previous model such a tremendous success. A look at key 2012 Toyota Camry details tells the story.
[FULL STORY]
Vehicle Profile: The 2012 Toyota Venza
The affordable, boldly designed luxury crossover.
With a choice of efficient four-cylinder and V6 engines, available all-wheel drive and a new three-grade model line, the 2012 Toyota Venza cuts a new path for crossover design, performance and value. Bodylines reminiscent of a luxury-sports sedan, along with coupe-like details, package a highly versatile and roomy five-passenger vehicle that looks like nothing else.
[FULL STORY]
Vehicle Profile: The 2012 Scion xD
Improved technology makes the xD better than ever.
The Scion xD urban subcompact heads into 2012 with its aggressive styling intact, plenty of standard equipment and a huge menu of options for easy personalization.
[FULL STORY]