Volvo recently announced the release of a new and improved version 2.0 of their FREE Volvo Sensus Essentials mobile app, which is available to customers with Apples iOS and Google Android mobile devices. If you already have version 1.0 on your mobile device, the update will appear on your phone automatically – be sure to accept it when you're prompted. If you haven't downloaded the app yet, now's your chance!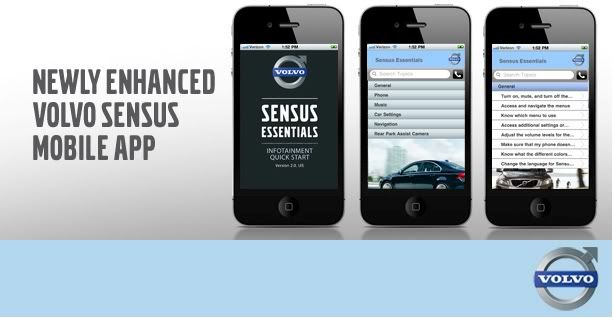 The app's functionality and design have been upgraded since the release last fall. The FAQ's are now divided into seven categories, so it's faster and easier to find the answers you're looking for.
The Volvo Sensus app answers common questions about this incredible system. Users get step-by-step solutions, complete with images for topics such as:
· Finding and using system menus
· Syncing Bluetooth phones
· Connecting media devices
· Adjusting car settings
· Operating the optional navigation system and Park Assist Camera
· Using Voice Command
To get started, go to the Android Marketplace, or the iTunes App Store and download the Volvo Sensus Essentials app!