Volvo has unveiled a new concept that is designed with the U.S. and Chinese markets in mind – an XC60 Plug-in Hybrid, featuring technology that was developed for its diesel-powered European cousin, the V60 Plug-in hybrid. The new concept gives the car owner possibilities that no other existing hybrid car can offer.
"The petrol plug-in hybrid is ideal for the American motorist who wants an electric car while at the same time retaining all the power and capacity that comes in his or her present vehicle," says Stefan Jacoby, President and CEO of Volvo Cars Corporation.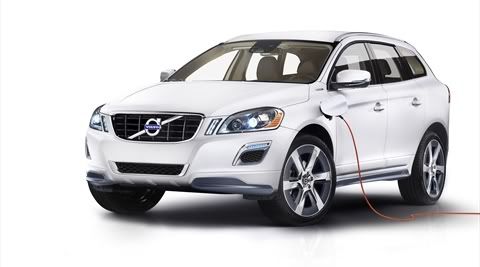 The V60 Plug-in Hybrid, Volvo's first production model with this technology, will go on sale in Europe later this year. In order to make the solution viable for the U.S. market, it needed to feature a gasoline powered engine. In the XC60 Plug-in Hybrid Concept, the electrification technology is blended with a state-of-the-art 280 horsepower gasoline engine.
"This combination brings the ingenious plug-in hybrid solution into the global context we are aiming for with all our car models," explains Jacoby. "The petrol version has great potential in several markets that are vital for our ambitious growth plans, such as the United States, China, and Russia."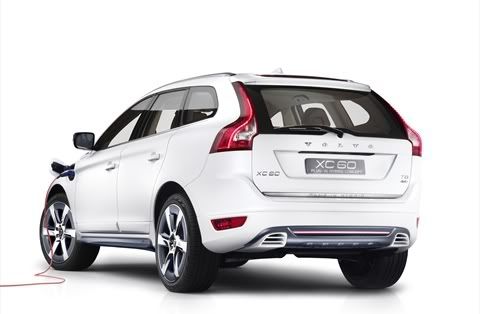 North American dealers welcome the introduction of a plug-in hybrid. Patty Hooley, a member of the Dealer Council of Volvo Cars of North America, says, " From a U.S. market perspective, a petrol plug-in hybrid would be an excellent addition to our product offer."
Daily Commute on Electricity
The XC60 Plug-in Hybrid Concept features an electric motor capable of producing 70 horsepower – combined with a four-cylinder turbocharged petrol engine, which gives the driver a muscular power plant packing a total of 350 horsepower. Yet, this very same car can be driven up to 35 miles on electricity alone or as a high-efficiency hybrid with operational fuel economy of 50 mpg.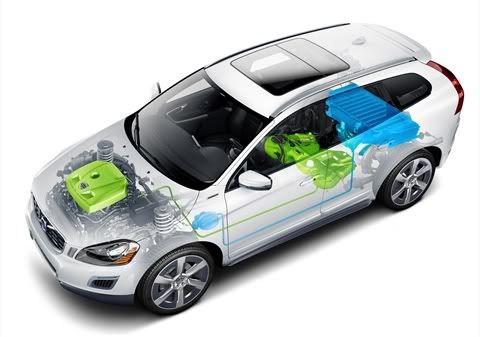 Illustration with technical components highlighted. The gas-electric Volvo XC60 Plug-in Hybrid Concept is an electric car, a highly economical hybrid and a powerful high-performance car all rolled into one. The preferred driving mode is chosen via three buttons on the instrument panel: Pure, Hybrid or Power.
"A plug-in hybrid is the ideal eco-car for today's conditions," Stefan Jacoby says. "It gives a large proportion of motorists sufficient range on electricity for their daily commutes. More than half of U.S. drivers cover less than 30 miles a day. With its three driving modes, the XC60 Plug-in Hybrid Concept also offers the owner a conventional model's interior space, safety, performance and long range. It gives the driver uncompromising flexibility to cover every type of motoring need."
Acknowledgements: "Volvo XC60 Plug-in Hybrid Concept." Press Release. Volvo Cars U.K. 4 January 2012. <http://media.volvocars.co.uk>